Mixed Metal Sterling Silver Gold Brass Dangle Hoop Earrings
Description:
These bohemian and eclectic-style beaded dangle hoops feature a mix of silver and gold tones, with a hand-forged sterling silver hoop and small gold-toned teardrop brass dangles and beads. Easy to wear everyday. 
lightweight
mixed metals
handmade in Vermont by designer, Danielle Nicole Enright
Arrives tastefully packaged and ready for gift-giving in a box with a 100% cotton reusable gift bag
See specifications below for more details.
Measurements: 
H: 40 mm x D: 1 mm x W: 40 mm
as these are made to order and hand made please allow 5-7 business days for shipment 
Specifications:
Measurements: 
H: 40 mm x D: 1 mm x W: 40 mm
 Shipping
as these are made to order and hand made please allow 5-7 business days for shipment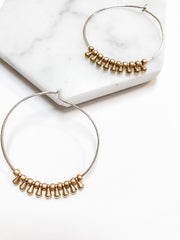 Mixed Metal Sterling Silver Gold Brass Dangle Hoop Earrings