Bumblebee Honey Bee Stud Post Earrings - Rose Gold Vermeil {More Options}
ROSE GOLD VERMEIL BUMBLEBEE POST EARRINGS
Measurements (mm): Length: 9 Width: 9 Height: 1
Please note: Photos have been enlarged to show detail. Please use the provided measurements.
Description: Sterling Silver Bumble Bee Post Earrings. In many religions, honeybees are commonly depicted as messengers for the spirits, and are closely associated with the sun. In ancient Egypt, they're the tears of the sun-god Ra, and in yoga, where each chakra emits a different sound in meditation, the lowest chakra emits the hum of the honeybee. Fly away with these cute and ready to wear post earrings.
Arrives tastefully packaged and ready for gift-giving in a beautiful and reusable cotton pouch.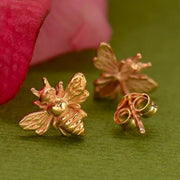 Bumblebee Honey Bee Stud Post Earrings - Rose Gold Vermeil {More Options}