As Seen on Home Economics - Long Quill Stick 2" Bar Earrings - Gold Vermeil or Sterling Silver
These earrings were worn on Home Economics by actress Caitlin McGee. These modern and chic earrings feature long quill-like "stick" spikes and hang on modern ear wires. Inspired by 70s style earrings. Choose from sterling silver (.925) or 24k gold vermeil (24k gold plating over sterling silver).
Your earrings arrive tastefully packaged and ready for gift-giving in a beautiful box and a microsuede storage pouch.
These are a made-to-order item. Please allow 5-7 business days to ship.
Handmade in Vermont.
Approximately 2" in Length
Measurements
Approximately 2" in Length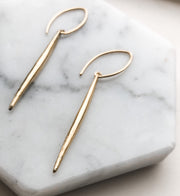 As Seen on Home Economics - Long Quill Stick 2" Bar Earrings - Gold Vermeil or Sterling Silver