Kelly Clarkson Long Boho Style Shoulder Grazing Gold Beaded Earrings
These eclectic style earrings were sent to Kelly Clarkson via The Artisan Group They feature a longer length that almost graze the shoulders with hand-forged "spikes" and neutral-colored brown faceted glass beading. Handmade in Vermont with love by artisan jeweler, Danielle Nicole Enright. Measure approximately 3" in length.  
These are a made-to-order item and will take approximately 5-7 business days to ship. 
Your earrings arrive tastefully packaged and ready for gift-giving in a beautiful box with a microsuede storage pouch.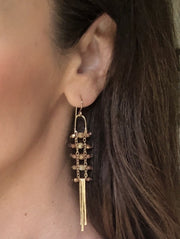 Kelly Clarkson Long Boho Style Shoulder Grazing Gold Beaded Earrings