Mookaite Gemstone Beaded 5 Wrap Genuine Brown Leather Bracelet
This beautiful boho-style bracelet wraps around most sized wrists 5 times and is secured with a curved silver-toned button clasp and Abrau brand tag. The genuine natural brown leather anchors the gorgeous round smooth 4mm mookaite gemstones in varying earthy hues of deep reds, greens, browns and creams and is woven with natural brown thread. Arrives tastefully packaged and ready for gift-giving in a white box with microsuede storage pouch. Wear alone or layered with other bracelets. Check out our other wrap bracelets in separate listings!

Hand-made in Vermont / USA
Please note that natural gemstones will vary in color and tones of those photographed. Each bracelet is one-of-a-kind which makes it that much more special.
Length: Adjusts from 36" to 38" (end-to-end). Wraps around most wrist sizes 5 times with 2 knots to adjust.
Mookaite Healing Properties: 
Mookaite is a nurturing stone that supports and sustains during times of stress. It brings peace and a feeling of wholeness. Mookaite helps us with decision making, especially when we are having a difficult time. It encourages versatility and helps us to accept change. Mookaite provides us with emotional growth. It helps us to discover all possibilities in a situation and to choose the right one. Mookaite provides a protective shield against negative or dangerous situations, eliminating and blocking unwanted outside influences and distractions, and revealing what is concealed. Mookaite promotes energy and new ideas, helping us gain enthusiasm and bringing the excellence of ourselves, bring kindness to ourselves and others. Mookaite helps with contacting those who have passed on.
Mookaite stabilizes the general health of the whole body and strengthens the immune system.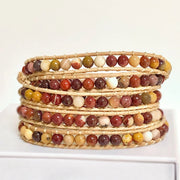 Mookaite Gemstone Beaded 5 Wrap Genuine Brown Leather Bracelet