Dorien - Lotus Infinity Knot Lariat Necklace {Choose Finish}
INFINITY KNOT AND LOTUS LARIAT NECKLACE
As Seen on Influencer, Dorien Buret de Longagne @do.bdl
Keep it simple and sophisticated with this .925 sterling silver, rose gold or 14k gold vermeil (14k gold plating over sterling silver) stunning necklace that beautifully combines the infinity and the lotus flower symbols. The Infinity symbol represents eternity, endurance and empowerment while the lotus flower symbolizes rising above pain, difficulties and unhappiness to joy and enlightenment. Buy this necklace for yourself or someone special as a beautiful symbolic reminder of strength and enlightenment. Handmade in Vermont, USA!
Arrives tastefully packaged and ready for gift-giving in a beautiful and reusable jewelry pouch.
MEASUREMENTS: Approx. 18" chain length. Infinity charm measures 0.5mm x 20.0mm x 8.0mm. Lotus charm measures 1.0mm x 19.0mm x 15.0mm.
Please note: The photos have been enlarged to show detail. Please use the provided measurements to ensure your desired size.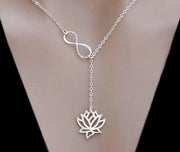 Dorien - Lotus Infinity Knot Lariat Necklace {Choose Finish}