Sterling Silver Crystal Moon Necklace on Adjustable Chain
This necklace has a waitlist since I posted it on Instagram and I have a limited quantity available. 
It features an antiqued sterling silver crescent moon adorned with crystals. It is strung on an adjustable sterling silver snake chain that adjusts from choker length to 22".
Your necklace arrives tastefully packaged and ready for gift-giving in a beautiful box with microsuede storage pouch.
Necklace is photographed on Heather Graber who owns Rocque The House Pepper Jelly, Made in Vermont.
Symbolism:
The moon is a powerful feminine symbol that represents time, cycles, psyche, admiration, shadow, and equilibrium. She will represent regeneration, feelings and instinct, as well as power, fertility, change, and understanding 🌙
Moon: 31 x 15 mm
Chain: Choker length to 22"
Measurements
Moon: 31 x 15 mm
Chain: Choker length to 22"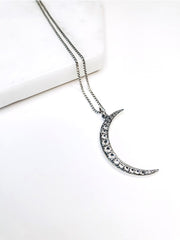 Sterling Silver Crystal Moon Necklace on Adjustable Chain