Love - Heart Bracelet with Cotton Cord
Keep it sweet and simple with this beautiful boho-style friendship bracelet with adjustable slip knot closure. An open heart charm in shiny sterling silver is the centerpiece with knotted red cord and sterling silver brand tag dangle. Makes a perfect gift for any age - your wife, girlfriend, friend, or YOURSELF - Remind yourself that you are loved because the most important relationship you have is with yourself. Fits most wrist sizes and custom sizing is available.
Arrives tastefully packaged and ready for gift-giving in a white box with a free customizable card.
MEASUREMENTS: 
(Please note: Pictures are enlarged to show detail. Please see picture of bracelet on wrist and measurements below to determine the actual size)
Length: Adjustable size! Fits 2" - 10" wrists. Cord Ends too long? To adjust the size after purchase, simply make a knot where you'd like the ends to fall and cut the excess. Make sure you can still fit the bracelet over your hand.
Charm size:
mm - millimeters
H:
1.5
L:
18.0
W:
14.0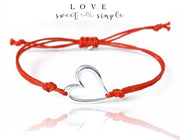 Love - Heart Bracelet with Cotton Cord